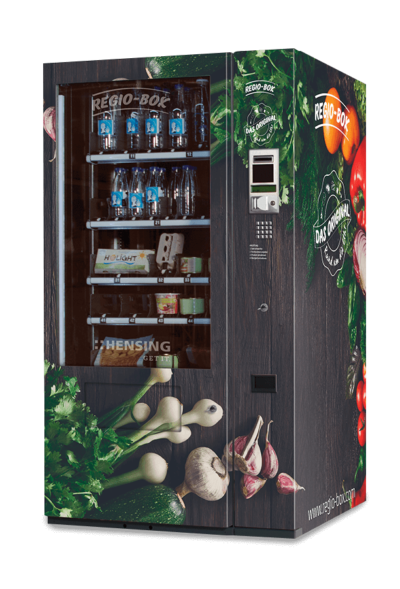 The allrounder among vending machines
HENSING BOX is the all-rounder among vending machines and one of the most solid and reliable machines on the market. In use by thousands, it has every­thing you could want from a functional self-service machine.
With or without cooling, as a single vending machine or extended by a maximum of 4 dispensing modules (slaves), the vending machine all-rounder offers maximum flexi­bility for your product diversity. With or without card reader, RFID module, age check or even additional coin tubes for stocking more change — the HENSING BOX is a true multi-talent in its class.
HENSING

BOX

: The basis for our RegioBox
HENSING BOX is the basis of the popular RegioBox. The vending machine for agriculture may be used as supplement or repla­cement for your farm-gate sales. Whether as egg vending machine, fruit- and vegetable vending machine or as sausage- and meat vending machine — with the HENSING BOX you can directly market your agricul­tural products and generate additional sales. You decide where you place your RegioBox and you can offer various products in just one vending machine.
HENSING

BOX

: Your benefits
Modular structure
Shelves adjus­table in height, depth, and number of parti­tions adjustable
Expan­dable to up to 4 slaves with one control module
Maximum product variety on small space
Barrier-free access to the output tray at a height of 90 cm
Safety glass
Frost protection heating with thermostat (for the payment unit)
Combine your
HENSING

BOX

with a microwave module
With us you have the possi­bility to expand your HENSING BOX with a unique microwave module. The microwave module offers space for 3 micro­waves, in which the food you offer in the HENISING BOX can be warmed up directly. For this purpose, the compart­ments in the HENSING BOX can be programmed accordingly.
For example, if the vending machine contains a lasagna in compartment A11, it is possible to transmit the run time for heating (e.g. 90 seconds) directly to the microwave. A special advantage is that the micro­waves only become functional after a product has been purchased. This means that it is not possible to heat food that was brought along.
Modular design for maximum product diversity on small space
The HENSING Box offers you all the advan­tages that a vending machine can have. Thanks to the modular design, you can expand the vending machine with up to four additional dispensing modules. The HENSING xxx vending machine with integrated control module forms the starting vending machine. You can expand the latter by up to four vending machines without control module — so-called slaves. To achieve the highest possible efficiency, we recommend expanding to up to two vending machine slaves.
Especially with products in different sizes, the individual adapt­ation enables the optimal use of space. You have the choice between combi­na­tions of food vending machines.
2in1 solution: Benefit from two machines with only one payment system
The HENSING BOX is equipped with an innovative payment system and acts as a control module. This control system also functions for all other vending machine slaves, so that you save costs effec­tively. With the 2in1 solution you get optimal operating comfort with efficient use of space. The innovative payment system can also be deter­mined individually.
In addition to the classic payment options by coin insertion and banknote reader, we can also equip your vending machine with a card reader if required. For contactless shopping, we can add an RFID module to your vending machine on request so that your customers can pay conve­ni­ently and at a distance by EC or credit card.
Real-time monitoring via app: Always up to date
On request, we can equip your HENSING BOX with a telemetry module that enables real-time monitoring of all data via app, smart­phone, laptop or tablet. This allows you to see which products will soon need to be refilled from anywhere in the world. This not only allows you to optimize planning for reple­nishment, but also provides you with conclu­sions about customer behavior. Selling has never been easier — with the Hensing BOX, earning money passively is incre­dibly easy.
Did we convince you?
With our vending machines, every­thing has been thought of, but much is still open. You cannot only decide which goods you want to sell, but also which design your vending machine should receive. We would be happy to advise you on this. We are looking forward to your message.